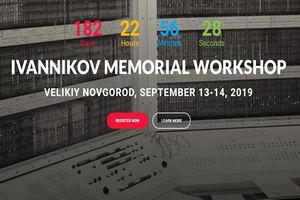 14

March, 2019
The annual Ivannikov Memorial Workshop will take place on 13-14 September 2019
The international Ivannikov Memorial Workshop will take place in Velikiy Novgorod on 13-14 September 2019. The main goal is to give all the participants the possibility to share their experience and knowledge in the sphere of system programming and to improve their professional level. The meeting is organized annually by ISP RAS in memory of Professor V.P. Ivannikov, who founded the Institute in 1994.
The main sections:
1. Technologies of program analysis, modeling and transformation.
2. Management of data and information systems.
3. High performance computing.
4. System software and operating systems.
The participants will discuss the actual problems of big data analysis, optimization methods in compiler and code generation, binary code reverse engineering, usage of the open source HPC packages for solving continuum mechanics problems etc.
To take part in the Ivannikov Memorial Workshop please submit an abstract or an article, containing the results of research or describing the work in progress.
Workshop details: ivannikov-ws.org/en.
All news